The percentage of websites using .io domains has more than doubled in the last year alone, according to w3techs.com. This makes it the fastest growing TLD by far, of all TLDs that make up roughly 0.01% or more of websites on the internet.
.io domains have grown from about 0.042% of all websites on the internet in April 2014, to about 0.088%. This is a growth of around 400,000 websites built on .io domains in one year: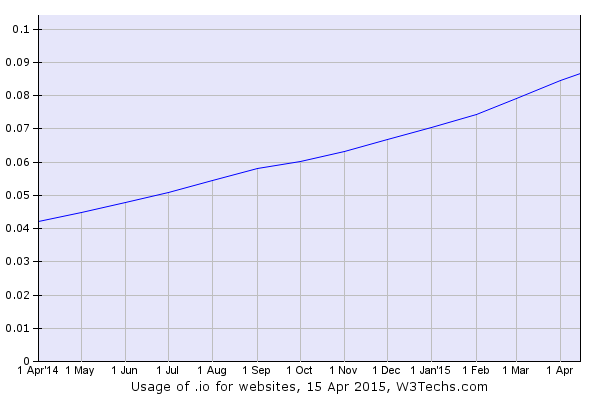 Meanwhile .com domains have dropped from 52.6% to 51.5% in the same timeframe.
The only other TLD that has come close to the growth of .io is .kr, which has grown from 0.3% to just over 0.5% in the last year. .kr is the Internet country code top-level domain (ccTLD) for South Korea.
The growth of .io domains isn't surprising to those of us who read Hacker News, as we have seen many startups that use the TLD, which began as a domain hack for "input/output." For example, File I/O or Disk I/O.
I reported in a previous blog post that the number of .io domains in the Alexa top one million websites list had more than doubled in the last year, from 676 in March of 2014, to 1,457 in March of 2015.
Even Hillary Clinton now uses a .io domain (hrc.io) for a url-shortener:
Google Trends shows further evidence of the explosive growth of .io domains:
The Trend Setters
Why are the number of .io domains growing so quickly compared to the rest? I think it is because the tech crowd are the early adopters and trend setters of the internet. When the hackers began using the .io TLD, the rest of the internet followed. But mostly it is because really cool websites and useful services have been built on .io domains. This has created a culture around the TLD - companies that use .io domains are known as being great at what they do.
Russell Beattie stated it well in his blog post about .io domains from over 2 years ago:
"These new .io sites are almost artisanal in nature - small, well crafted and functional. It's like a TLD for techies with taste."